This is not like a TV program aired by an Indonesian private TV station.
I'm about to announce 2 great news from my 2 sisters!!!
okay, biologically, I only have 1 sister.
Well, I actually have 2 biological sister but my first younger sister, Amalia, died when she was 3 months old due to bad heart, uncomplete body parts, and other ilness complications... so we (my family and I) never really talk about her...
so, technically I-now-only have 1 biological sister, Alia.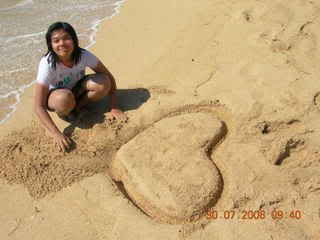 my other sister is Lisa.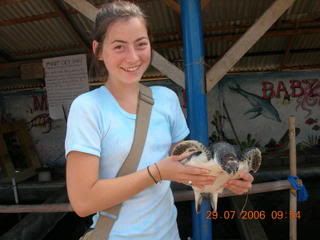 well, we don't have any family blood, but we're as close as ppl who share similar genetics...
I guess when we share a room for a year, we created a really tight bonding b/w us.
last night, I made contacts with my 2 sisters...
first, it was with Lisa.
Yesterday was her b-day...
we talked on the phone for a few minutes and then continued our conversation on the msn...
she told me one good news: she got a boyfriend...
a guy named Peter (again! one of her ex-bfs' name is Peter too)
hahaha...
that was a good news... she's been looking for quite sometime and she finally found someone...
so, good for u, Lisa...
hope it'll last long!
have fun!
and then, right before I fell asleep, I got sms from Alia.
she said, "Kak dhea,tiket java jazz nya uda ada buat 3 hari plus 3 special shows,wow,kak dhea cpet smbuh ya" (in English: "Kak dhea,we got 3 days pass plus 3 special shows tickets for java jazz,wow,hope u get well soon")
fyi, "kak dhea" is what Alia use to call me. and "dhea" is what my family (means my parents, cousins, aunts, uncles, and other relatives) and my elementary school friends call me.
back to the news:
I got Java Jazz Tickets!!!!
yuhu!!!! yippie!!!!
I'm going to Java Jazz!!!
My sister (alia) and I are going to Java Jazz for free!!!!
ahahahahahahahahahaha!!!!
Java Jazz, here I come!!!!
I love good news!!!!
p.s. today (28 feb 2007) is one of my Thai friends's bday too!
Happy bday, Jo!!!